Pavers Fort Lauderdale
Durable, elegant pavers can elevate your outdoor space in countless ways – call BrickAmerica to learn how we can bring them to your home.
Fort Lauderdale, FL, provides months of sunshine and wonderfully warm temperatures, and the best way to enjoy those weather elements is with a well-built outdoor space. Swimming pools and patios are excellent attractions to bring people to your home for a summer day, and you can enhance those features with brick and stone pavers in Fort Lauderdale.
Pavers are outdoor building materials you can use to construct different spaces. They're a durable and elegant alternative to standard concrete structures, and the brick and concrete pavers from BrickAmerica are the best in Fort Lauderdale.
We offer a vast selection of pavers that will transform the appearance and usability of your outdoor spaces and features. Don't just take our word for it; read our customer reviews to see how we've helped your fellow Fort Lauderdale community members, architects, home builders & municipalities design and complete their hardscape projects.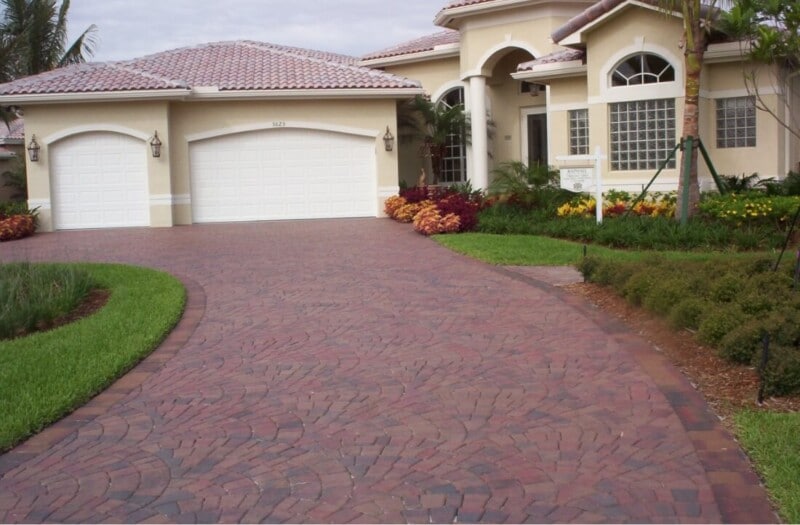 Our Paver Selection
At BrickAmerica, we offer four categories of pavers in several unique designs so that you can find the perfect fit for your property.
Clay Brick Pavers
Clay brick pavers are the most popular pavers in Fort Lauderdale, primarily because of their unmatchable appearance. Clay perfectly mimics the style of traditional brick while leaving a uniquely smooth finish that keeps everything uniform.
Although most of our clay brick pavers are red to mirror the look of standard brick, we also offer yellow and gray options, as well as multi-colored pavers for adventurous home improvers.
Concrete Brick Pavers
Concrete brick pavers are easy to customize in different colors but leave a rugged, sophisticated look no matter what shade you choose.
Concrete is highly durable, and its traditional gray color gives outdoor spaces a contemporary look.
Natural Stone Pavers
Unlike clay and concrete brick pavers, natural stone pavers come in flat tiles that bleed together rather than looking like individual bricks glued together. That uniformity gives them a contemporary look that modernizes outdoor spaces.
Porcelain Pavers
Porcelain pavers are the new product on the block, but they've quickly become one of the most popular. They look nearly identical to natural stone pavers but are easier to clean and install. While some people prefer the feeling of natural stone, porcelain offers a uniquely beneficial alternative.
Where You Can Use Pavers in Fort Lauderdale
Pavers are diverse building materials that property owners can use in several ways, including:
Driveway and walkways: Driveways and walkways constantly endure heavy foot traffic and vehicle weight, and our pavers can withstand that wear and tear. Additionally, pavers provide an attractive design that works well for these structures.
Patios: Appearance is everything when constructing a patio, and you won't find a more beautiful patio building material than pavers. Additionally, with pavers in Fort Lauderdale from BrickAmerica, you'll have a wide enough selection to build your patio exactly how you want.
Pool decks: Clay and stone pavers are moisture-resistant surfaces that better resist water damage from swimming pools than most pool deck materials.
Benefits of Using Pavers for Your Outdoor Living Spaces
Property owners have countless options for remodeling their outdoor space, but our pavers in Fort Lauderdale are strong in ways other materials cannot match.
Durability
Pavers last up to 50 years before showing signs of wear and tear and can resist damage in any environment. Meanwhile, traditional concrete slabs can fade after 15 years of regular use and aren't as resistant to moisture during Fort Lauderdale's rainy season.
Several Size and Design Options
In addition to coming in various materials, pavers are easy to shape and dye in countless colors and sizes. Those properties let you build the perfect outdoor space, while traditional concrete slabs don't provide the same flexibility.
Improved Property Value and Curb Appeal
Homebuyers love our pavers in Fort Lauderdale and will pay extra on the resale market for properties that use these materials well. If you're not planning to sell your home, they'll boost its curb appeal to make your property more inviting.
Call BrickAmerica for the Best Outdoor Pavers in Fort Lauderdale, FL
BrickAmerica has the widest selection of pavers in Fort Lauderdale, all available at competitive rates. Want to learn more about our team? Look through our about us page, and contact us when you're ready for unbeatable home improvement.
Call BrickAmerica in Fort Lauderdale, FL, today at 954-374-0660 to get a free estimate for your project, or visit our showroom at 10380 NW 53rd Street, Sunrise, Florida, to check out our concrete brick pavers in person.