Stone Veneer Fort Lauderdale
Contact BrickAmerica today to learn how stone veneer can bring your Fort Lauderdale, FL, home or commercial property.
Stone buildings have always had an elegant aesthetic with exceptional curb appeal. However, since standard stone construction is more expensive and less secure than crafting buildings from other materials, home builders have phased out the traditional methods for stone veneers.
Stone veneer is a type of stone siding panel that is robust, affordable, and possesses real stone for an unbeatable look and feel. Homes and buildings finished with stone veneer are common in Fort Lauderdale, and if you want to bring the stacked stone siding's benefits to your home or commercial building, BrickAmerica is the best place to go.
BrickAmerica is a wholesale stone veneer and hardscape distributor in Fort Lauderdale, FL. We offer the best stone veneer in Fort Lauderdale and will deliver it in time for your next home improvement, new development, condominium or commercial building project.
Want to read more about how stone veneers have helped your fellow Fort Lauderdale community members, architects, home builders & municipalities design and complete their hardscape projects.? Read our customer reviews, and don't hesitate to call us at 954-374-0660 to get expert advice and a free quote for your project.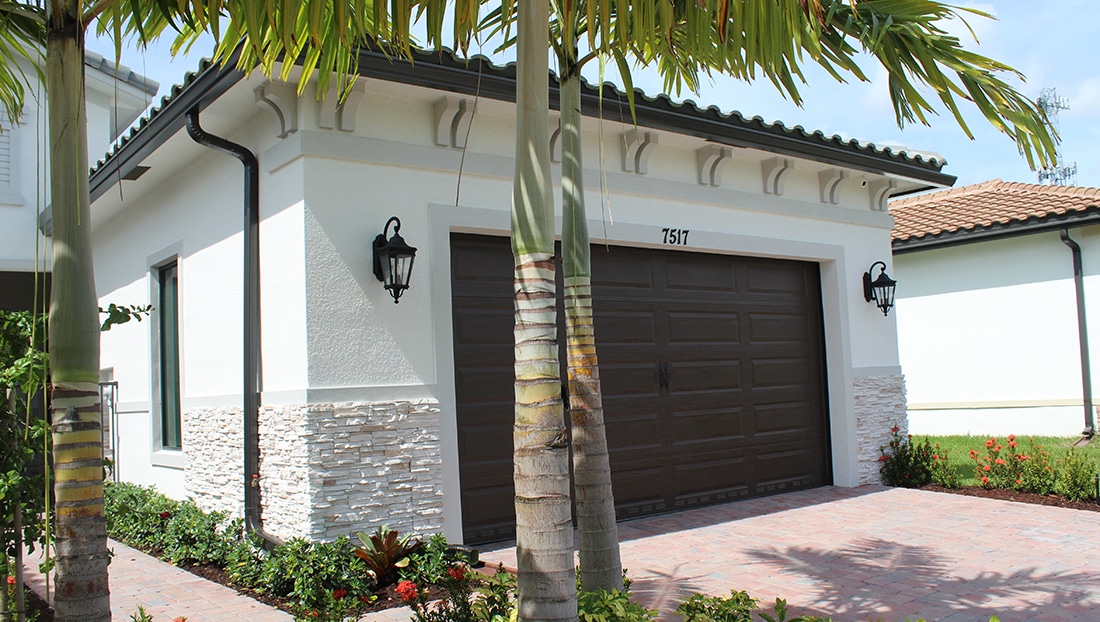 How is Stone Veneer Constructed?
Stone veneer is not just a high-quality building material that looks good. Despite being a relatively thin siding panel, our stone veneers have five layers that seal them tightly together and to your home.
From bottom to top, those five layers are:
Asphalt Felt: The asphalt felt is your building's strongest defense against inclement weather. It shields any moisture from Fort Lauderdale's humidity and rainstorms from seeping through your siding and damaging the structure beneath.
Galvanized Lath: The second layer is a support structure that holds the next layer in place.
Scratch Coating: Scratch coating is a mortar layer that strengthens the final stone layer, helping it resist wear and tear.
Mortar Bed: This bed glues the scratch-coating middle layer to the stone veneer outer layer. Mortar is a robust material that won't lose its sealing strength.
Stone Veneer: The stone veneer panels go on last to give your building an elegant, rustic aesthetic. Stone veneers also weigh less than traditional stone, making them easier to install.
Types of Stone Veneer
Another benefit of installing stone veneer in Fort Lauderdale is that you'll have several options at your disposal. At BrickAmerica, we offer four categories of stone veneers and dozens more sub-categories, giving you everything you'll need to find your dream stacked stone veneer.
Natural Stone Veneer
Natural stone veneer compiles specially-selected sections of real stone into a thin veneer panel. Since these natural stone veneer uses real stones, the rocks often look jagged and mismatched from one another, offering a unique aesthetic that looks like a genuine stone building.
Even though natural stone veneers use real rocks, they are still easy to customize using various colors and styles.
Manufactured Stone Veneer
Manufactured stone veneer panels don't use real stone. Instead, they rely on meticulously hand-crafted fake rocks that look real.
The advantage of manufactured stone veneers is that, since the builders shape each stone themselves, they can give the veneer a more uniform, sophisticated look than natural stone.
Portofino Porcelain Stone Veneer
Our porcelain stone veneer in Fort Lauderdale is a relatively new product but one that's rapidly gaining popularity. These panels provide a clean, sharp color for a sophisticated look and are easy to clean, install, and keep looking their best.
Benefits of Installing Stacked Stone Stone Veneer in Fort Lauderdale, FL
Easy DIY Installation
Stone veneer siding gives you the classic look of natural stone without the backbreaking labor of installing it. Once your stone veneer panels arrive, you can set it up on your existing building within a few days.
Fits Interiors and Exteriors
Stone veneer looks natural and visually pleasing inside and out, so there's no limit to where you can put them.
Element Protection
Since stone veneer's base layer resists moisture, you won't have to worry about Fort Lauderdale's harsh weather wearing down your building.
The Best Stone Veneer Siding in Fort Lauderdale, FL
A stone veneer in Fort Lauderdale, FL, can elevate your home's appearance and weather protection, and there's no better place to find high-quality veneer siding panels than BrickAmerica. We offer dozens of natural and manufactured stone products that will bring the best out of your building.
To learn more about our company, look through our about us page.
Natural stone veneers from BrickAmerica are the best home siding Florida has to offer. Call our Fort Lauderdale, FL team today at 954-374-0660 to schedule an appointment or receive a quote for your project.